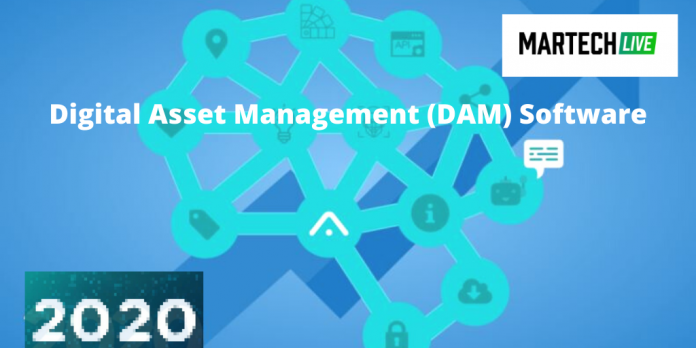 Digital Asset Management (DAM) is a software that stores, shares, and sorts out excellent resources in a central location. It amplifies the advantages of digital files, such as pictures, videos, and other media. In simpler terms, a DAM is an organization's content storage and sharing solution. Digital Asset Management software organizes assets in a central location, automate workflow and improve team creativity, locate media files quickly through sophisticated search capabilities, manage press kits and image collections, automate image watermarking, manage permissions by extensive copyright functionalities, and tag images automatically by utilizing facial recognition.
Digital assets are files surcharge music, photos, documents, videos, and other media. Digital files that comprise the rights to use them are categorized as an asset. The number of digital assets increases as digital content creation and sharing increases over time.
Choosing a digital asset management software can be a daunting task and requires organizations to put in some serious thinking. The market is filled with DAM software, and each software has its advantages and drawbacks. Organizations need to purchase one that provides the best service for their individualistic requirements. These requirements vary from organization to organization, and decision-makers must consider the end goal of their campaigns, resources, constraints, and budgets while purchasing digital asset management software.
This list of top 9 DAMs is curated with the help of precise research conducted by Straits Research, a provider of company and industry market research reports. According to Straits Research, the top nine digital asset management platforms (in no particular order of preference) are as follows.
Adobe Systems, Inc.
OpenText Corp.
Oracle
Bynder
MediaBeacon, Inc.
Cognizant
CELUM
Canto, Inc.
Widen
Adobe Systems, Inc.
Logo by Adobe Systems, Inc. as seen on the Website.
Adobe's DAM allows organizations to manage all content and digital assets on one platform and streamlines collaborative processes, which eases the process of marketers and creatives working together. This software air is equipped with AI capabilities and data-driven insights that help identify which content achieves high ROI.

OpenText Corp.
Logo by OpenText Corp. as seen on the Website.
OpenText integrates with stakeholders and departments, such as marketing, e-commerce, and the digital supply chain, among others. It provides organizations with the necessary digital tools to create a "media-enabled" organization. The software possesses the capabilities to automate repetitive tasks and streamline the review and approval process. To facilitate the easy finding of assets, OpenText has recently redesigned its user experience on the OTMM (OpenText Media Management) platform.


Oracle
Logo by Oracle as seen on the Website.
The Oracle Content and Experience Cloud allows enterprise users to review and work together on digital assets quickly. Creative professionals can benefit from new digital asset management features such as simple, streamlined asset approval workflow and publishing, an all-new digital assets area where teams can effortlessly search, access, and view assets, ability to structured author content with different layouts for different channel delivery, and the organization of needed assets into 'collections,' among others.

Bynder
Logo by Bynder as seen on the Website.
Bynder utilizes AWS global services to enable performance and scalability and provides users with 'publishing-on-demand' features that Give users access to a smart template tool. This tool helps organizations in creating branded materials such as advertisements, banners, and business cards. The Bynder DAM comprises an intuitive workflow that brands can customize to meet their individualistic, niche needs. It is a popular DAM platform used by the likes of Canon, and Spotify, among other global brands. In terms of integration, it supports multiple third-party such as Google Analytics, Magento, and many others. Additional bonuses are its Andriod and iOS apps.


MediaBeacon, Inc.
Logo by MediaBeacon, Inc. as seen on the Website.
Marketers utilize the MediaBeacon DAM to drive asset creation and easily find and distribute assets. This platform brings and organizations digital Assets and Integrated Marketing teams together under one secure and simple hub. It provides users functionalities such as drag and drop workflows, project management, creative workflow, Adobe integration, and review and approval. It empowers "asset (re)use" by enabling social posting, branded portals, integrations to marketing tools, unifying content silos, and improving brand compliance.


Cognizant
Logo by Cognizant as seen on the Website.
The Cognizant assetSERV DAM helps enterprises manage end to end cycles and allows the creation of a path to deliver engaging customer experiences. It is a pre-configured, cloud-based platform that will enable users to deploy and reduce the total cost of ownership rapidly. The provision of intuitive search, multiple layers of security, and collaborative workflows make it the first end-to-end platform of its kind and provides maximum convenience and seamless experiences. Cognizant's deep expertise in digital asset management implementation is especially useful for customers. They are provided with a solution that is best suited for their requirements, unlike other fixed DAM solutions.


CELUM
Logo by Celum as seen on the Website.
CELUM's DAM suite is a leading software with over 20 years of experience in the enterprise-level market. This software allows enterprises around the world to upload, store, share, manage, and track digital assets from a single source. It features built-in team management, enterprise file syncing and sharing, content portals, and a content hub. CELUM's platform is easy to integrate with any other system and application. It also has a work-in-progress feature, enabling brands to automate and track creative processes through version and task management.

Canto, Inc.
Logo by Canto, Inc. as seen on the Website.
According to some sources, Canto is one of the most robust DAM systems on the market, with Marketing teams from almost every industry trusting it enough to organize, secure, and share assets easily. It allows users to tag easily, collaborate, and report on company-wide digital assets and eases collaborations with its simple-to-use visual interface and intuitive features such as automatic file organization, copyright license management, and watermarking. It also is the process of searching for an asset by providing users with custom metadata fields. Canto ensures brand consistency and secures content with branded portals and permission-based access.


Widen
Logo by Widen as seen on the Website.
Widen Collective is an enterprise-level DAM that goes beyond the functionalities of typical centralized, shared digital asset libraries. This platform enables users to distribute their content across the web, allows users to automate marketing workflows, and provides powerful content analytics. Widen's software integrates seamlessly with various platforms, including social media, marketing automation, and content management. It is built on AWS and has a secure and scalable cloud architecture. It comes with automatic file conversion and enterprise governance control, with its 'Collective' feature allowing users to curate asset groups for different teams.
Conclusion
The importance of storing digital assets in one central location is of paramount importance. A digital asset management platform allows organizations that deal with media-rich content to create, archive, manage, manipulate, and repurpose digital media assets such as videos, documents, and images. A DAM organizes digital assets by assigning meta-data that allows a unique description to every asset, thereby making it easily searchable, manageable, and filterable.
DAMs play a pivotal role in brand management and ensure that teams have access to the right brand material, which facilitates brand consistency across the organization and external touchpoints. Digital asset management platforms also help organizations keep digital assets secure, organized, and accessible to employees worldwide.