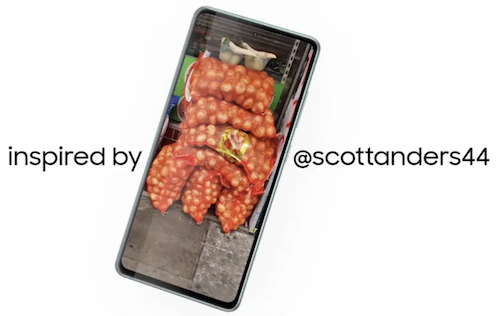 Image as seen on the TheStable
The electronics and appliances giant, Samsung is often the talking point of the masses and rightly so! The marketing campaigns brought about by the tech leader are pieces of scientific masterclasses. Amongst the most notable recent campaigns are The Galaxy 11 and the Bandersnatch-style Samsung Galaxy Note 10 Instagram adventure. Samsung looks to add to this list of movements that focus on UGC (user-generated content) to engage their community.
After winning the brief for Samsung's UK mobile business earlier this year, Mother London has developed the "Inspired by a True Photo" campaign. This campaign is Mother London's first work for Samsung and aims to bring new life to people's smartphone photography creativeness.
The campaign launchers, and Samsung's all-new product, the Galaxy S20 FE (Fan Edition) smartphone. The campaign takes real-life consumer photographs and converts them into unexpected creations. Mother London has kick-started this campaign with an initial advertisement called "Onions," centered around a real photo of onion sacks taken on a Samsung smartphone.
The onion sacks' image has inspired Mother London to create a tale about a young man working at a cafe, who falls for a girl waitressing at a restaurant across the road. The storyline truly absorbs the image's essence by naming the eatery as "Rick's Onion Cafe" and the upscale restaurant as "L'Oignon," which is French for onion.
With this campaign, Samsung encourages its customer base to upload their photographs with #WithGalaxy to stand a chance to have their image chosen and have a similar creation spun around it. The curiosity related to this campaign attracts the attention of eager Samsung customers, which, in turn, helps the brand create and engage a community around itself.
Onions, directed by Sam Hibbard, is the first of many ads that will be part of Samsung's "Inspired by a True Photo" campaign. Alex Conaway, of Samsung Electronics UK, says that smartphones have evolved to use photography to communicate with friends and family. He also interestingly adds that while the rest of the industry considers a photograph as an endpoint, a picture is where a story starts for Samsung.
The "Inspired by a True Photo" platform takes a single user-generated photograph and makes it the focus and inspiration of a creative journey. Sam Hibbard, of Somesuch London, says the people are given the creative freedom to seek inspiration from everyday objects until people think about how the item acts as a cultural connector, elicits emotion, and possesses the potential to bring people together.