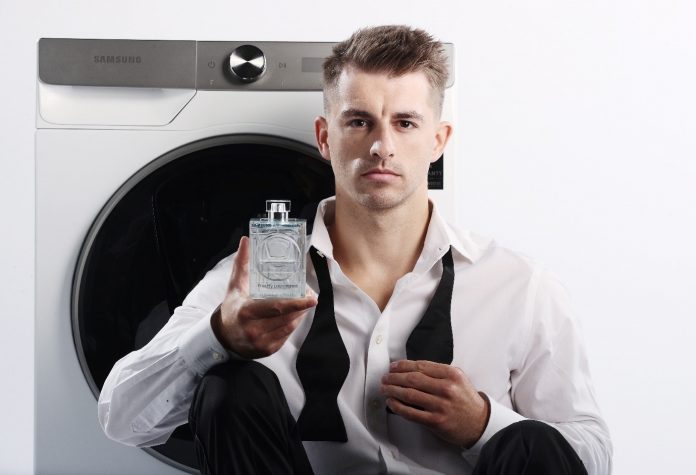 Image as seen on the Samsung
Samsung has teamed up with Max Whitlock, an Olympic gold medal winner, to launch their new perfume aimed at capturing the essence of fresh laundry. The new campaign by Samsung takes a cheeky dig at traditional perfume advertisements. It emulates some of the most famous ads by showcasing some of the British athletes' impressive maneuvers atop a washing machine, always promoting the new perfume developed by Samsung.
It seems odd. A tech giant developing a perfume; a perfume that smells like laundry; and, to top it off, a gymnast performing pommel horse moves atop a washing machine! What was Samsung thinking?
However absurd this may sound, Samsung specifically developed the 'Freshly Laundered — Eco Edition' fragrance to mark the launch of Samsung's latest washing machine, the new ecobubbleTM. The perfume bottle is a replica of the eco-friendly and is provided free-of-cost to the first purchasers of the ecobubbleTM.
The campaign has been devised by Taylor Herring, a multi-award-winning creative shop. It is fully integrated and comprises a hero spot and OOH (Out Of Home), digital, and PR assets. Sarah McCartney, an expert perfumer, created this particular fragrance to entirely captivate the essence of fresh laundry after the research revealed that 77% of Britons rated the smell of freshly washed laundry as their favorite. The resulting perfume contains masks that evoke fresh water and a new garden, accompanied by the scents of lily of the valley.
The Samsung ecobubbleTM is its most eco-friendly model to date, which is due to powerful technologies that significantly reduce energy consumption and wash times. It comprises a simple and easy to use interface with intelligent laundry care and gives a faster clean by maximizing detergent effectiveness. The Smart Control + technology familiarises itself with the users' behavioral patterns and offers a personalized laundry experience by recommending cycles.
So, despite Samsung teaming up with Max Whitlock to launch a new fragrance, the actual product that Samsung is marketing is its latest washing machine, the ecobubbleTM. This, without doubt, is a unique and not so straight forward way of marketing a product. The progress and effectiveness of this campaign will be interesting to watch.