A picture is worth a thousand words, so one can only imagine the worth of a video. Marketing using videos has been increasingly gaining traction over the past few years. The rise of social media in the past decade saw a major shift in marketing methods used by brands. Of these, marketing campaigns using videos proved to be most successful in promoting products and services, increasing engagement, and reaching a wider target audience. But that's not all! Video marketing helps display customer testimonials, live stream events, and enables the making of viral content.
Social media giant Facebook reported that content shared in video format garnered much more engagement in comparison to images, links, and text. A survey conducted recently by Wyzowl revealed the following.


From TV advertisements back in the day to YouTube ads today, marketing and video, since time immemorial, have gone together like peanut butter and jelly. For modern, tech-loving marketers, video marketing proves to be an attractive, engaging, and shareable medium to reach their audiences. According to a recent finding by Diode Digital, online video, as a marketing tool, is 600% more effective than print and mail combined.
To define video marketing is no rocket science; it is the utilization of video by marketers and brands to promote/ market their offerings, or simply the brand itself. Video marketing is used by marketers as a medium that presents how-to guides, customer testimonials, live events, and also delivers content that has the virality factor
How Does It Work

To think of it, video marketing seems straightforward, right? Make a video, promote the brand, generate revenue, increase offerings and brand awareness, and engage customers; a cakewalk really. Well, as easy as this sounds, the ground reality is somewhat different. Here's what you need to do to develop your video marketing strategy.
Like most paid marketing methods, you need to allocate funds for the video. Video making requires decent equipment, editing software, and postproduction implementation, among others.
Video marketing necessitates storytelling. Marketers must know what stories they want to tell and how they want to tell these stories.
Customer engagement is the goal every marketing method looks to achieve. It's no different in the case of video marketing, and before coming up with a story, marketers must ask themselves how they can make the story interesting, and what will engage the audience.
Marketers must ensure that they keep video lengths short. The general video marketing rule states that the shorter the video, the better. Edit and cut out anything that diverts the slightest bit from the main topic and, most importantly, do away with parts that lead to the straying of customer attention.
The next goal for marketers should be publishing and posting the video within every possible inch of the internet. Upload it to your website, to YouTube, to your brand's social media handles, and every other place you can think of.
The final step is one for continuous quality improvement. Be sure to track and measure the performance of each video that has been published and put the data to use. Find out which videos have done the best and, more importantly, why.
Types of Video Marketing Techniques Used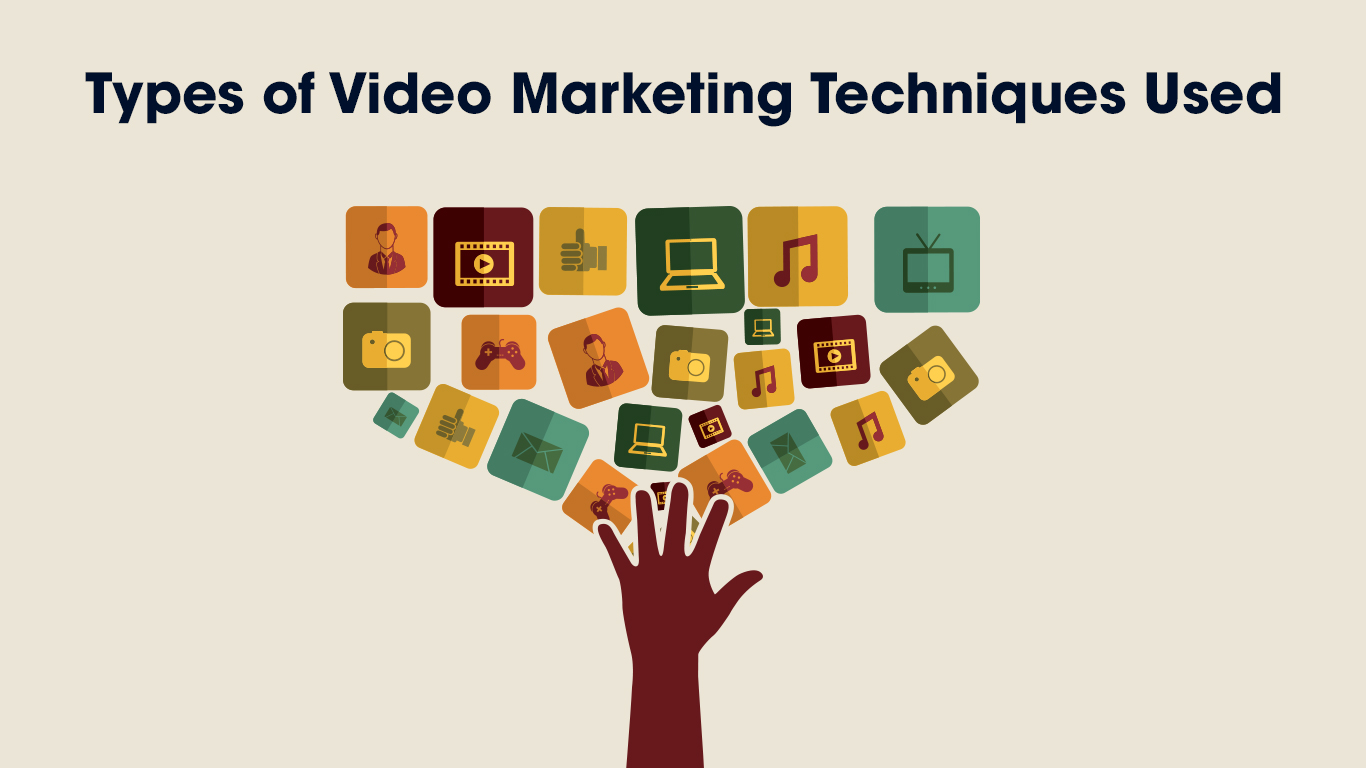 Demo videos are an excellent way of educating customers on how the product or service works. They demonstrate, in a step-by-step manner, the intricacies of the product.
This type of video is usually created for advertising with the motive of promoting the company's vision, mission, and to increase brand awareness to attract customers.
A highlight of all the crucial moments of an event organized by the company is what makes up an event video. It is an effective way to engage the target audience.
Videos of thought leaders or visionaries in the industry are an excellent medium to build a trustworthy rapport with customers. They are a very popular mode of video marketing.
Helping viewers understand new topics or build foundational knowledge can help them easily grasp the solutions business provides.
These mostly display the need for the product or service via the journey of a fictional character to make the sketch engaging.
An effective way to explain complex subjects, animated videos use strong imagery to promote products and services.
A video showcasing a happy customer can do wonders for a brand. A campaign showcasing satisfied clients can give the brand a much-needed boost.
The newest addition in social media marketing, live videos have taken the world by storm. They give customers an inside look at the company and garner higher engagement rates than conventional videos.
These help viewers see the content from every possible angle, giving them the feel of actually being present in the location.
This type of video is commonly used to help the customer view a certain item in the customer's current location by adding a digital layer. A good example of this would be IKEA helping a customer see how a particular table would look in their house.
While Snapchat gained popularity by chatting via photos, videos too can make up for an interesting and sweet mode of communication.
Benefits of Video Marketing

Marketing using videos reaps plenty of benefits, and the most notable ones are listed below.
Videos are the most effective way of connecting with the target audience and help bridge the gap between how customers perceive the brand and what the brand is. They build trust and give customers a sneak peek into the brand's true identity.
Videos are SEO gold. They help backlinking, increase likes, and shares considerably, and generate high rates of traffic to the website. Using the right hashtags on a YouTube video is the key to increasing reach and engagement.
More Information Retention 
Most customers will only remember bits of what they hear and even lesser of what they might have read. However, if they hear something that is supported by relevant and powerful images, they're 65% more likely to recollect it. That's why videos are the ideal mode of content for campaigns in the current times.
Customers love videos. Of all the web traffic generated in 2017, 74% came from videos. The majority of customers prefer to watch a video showcasing specifications rather than reading the description.
Boost in Clicks and Opens
The rates of clicks and opens on mails consisting of videos were reported to be much higher than conventional emails.
It has been reported that approximately 60-85% of people are likely to purchase after watching a video. This indicates that video content yields higher purchase rates.
Challenges Faced During Video Marketing
There was a time when the budget posed a major challenge to video marketing. In the current scenario, however, these aren't major problems anymore due to ease of access to software and high-resolution cameras in mobile phones.
A competent marketing team and good equipment are still essential, but these can't be viewed as major obstacles. The biggest challenge to video marketing today is strategy. A strong, well-planned strategy that places a prime focus on the current trends — what customers wish to see and content that has the potential to get viral. Marketers also need to have a fair idea of measures to analyze the success of video campaigns to identify shortcomings and how they can be overcome the next time around.
Examples
Here are some great video marketing examples from brands that we're all acquainted with.
      Video by Reebok
This video shows that putting a sense of urgency along with your message is a powerful psychological motivator. With this video, Reebok makes the combined use of psychographic marketing and video marketing to put across a compelling and actionable message.
Alibaba: To the Greatness of Small
      Video by Alibaba
For marketers, it is tempting to target the whole audience, however, the most powerful messages sometimes resonate with the smallest of audiences. This video basically clears the fact that if a brand sticks its neck out for the underdog, it will end up impressing many others in doing so.
GoPro: Fireman Saves Kitten
      Video by GoPro
This video goes to show that brands and marketers mustn't be skeptical about pushing the boundaries of the brand's image. Brands must look for ways to do things out of the ordinary and step out of their comfort zones, which could result in wider audiences.
How to Use It
Many marketers are up to speed with what video marketing is, how these videos are made, and also how they are published. However, the most common question marketers often find themselves dealing with is how to devise an effective video marketing strategy.
To cut to the chase, here's what marketers need to do to increase brand awareness through video ads.
These faces can be anybody ranging from actors, actresses, sports stars, local leaders, or well-known employees (e.g., Steve Jobs). Research shows that portraying a recognized face at the beginning of the video increases viewership.
Incorporate Humor and Emotion
Funny videos help with ad recall and drive brand awareness. Humans tend to keep a note of an encounter that sparks an emotional reaction, including talking animals, or laughing babies.
The audio that accompanies the video is just as important. According to YouTube, it is possible to see a 20% increase in brand awareness when viewers watch videos with audio.
Conclusion
Videos are essential for any brand's marketing strategy in this modern age. People are more willing to watch a message narrated by a brand in the form of a story rather than read a blog or look at static images. Marketers must ensure they are putting their brand in a position that reaches out to its target audience. Whether a brand is searching for more views, impressions increased conversion rates, or just engagement, getting on track with video marketing is a necessity.