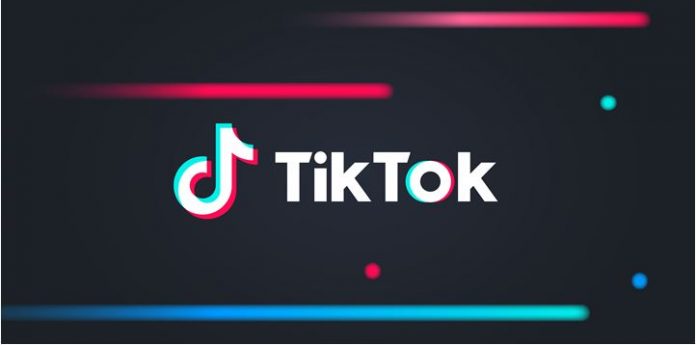 Logo by Tiktok as seen on the Website.
No matter what brand you have, there is no better way to connect with your audience than through social media. Marketers and brands turn their focus toward social media platforms to market themselves, their products, and services. The platform in focus these days is TikTok. Many brands are relatively uncharted by this platform; however, those that use it for marketing have received tremendous results from their marketing campaigns.
What Is TikTok?
TikTok is a Chinese video-sharing social networking platform that is used to create short dance, lip-sync, comedy, or talent videos, among others. It encourages users to create and upload short videos, each mostly 15-seconds long, and has based its targeting on teens and tweens. It also allows users to create and share 60-second stories-type of videos. With type, there has been an increase in the variety and type of videos that are shared on this platform and is no longer just about music.
Some users create videos of almost every type, from comedians sharing stand-ups to skateboarders showcasing their skills, and even budding beauticians demonstrating their talent. More recently, it has been noted that users are sharing videos that feature their favorite products.
How do Brands Use TikTok?
These are still relatively early stages of TikTok, and, currently, there are three obvious ways in which brands can make use of the platform. These are as follows.
Create a channel and upload relevant videos
Work with influencers to market to a broader audience
Pay to advertise
One of the most effective and common practices by brands utilizing TikTok for marketing is to have a combination strategy. They create their channel as well as team up with influencers. The viewers that like the content displayed by the influencer can easily follow the brand as well.
TikTok Facts That Will Amaze You!
For those of you who are hesitant about marketing via an application mostly used by millennials, here are some facts that will change your mind.
In 2019, it ranked second in the most downloaded popular free app on both Apple Play Store (iOS) and Google Play (Android)
According to an online research project by Influencer Marketing Hub, TikTok has the highest follower engagement rate per post
TikTok was downloaded 277.6 million times in India in 2019 and had 119 million active Indian users
Active daily users in China (Douyin version of TikTok) exceeds 400 million
Worldwide, it has more than 800 million active users
TikTok has over 1.9 billion device downloads worldwide, with 44% of these downloads occurring in 2019
Since its inception, TikTok users had already spent $50 million by the end of October 2018, and that's before TikTok introduced advertising
With the sole exception of the USA, more than 90% of TikTok downloads have been on Android devices
Like most other social media apps, as per official TikTok statistics, 90% of users use the app multiple times a day
TikTok experienced a 500% increase in in-app expenditure between May 2018 to April 2019
On Jan 5th, 2019, TikTok's website reached 1,000,000 estimated daily page views
According to Sensortower, in Feb 2020, TikTok was downloaded 113 million times, making it the most-downloaded non-gaming app in February
It isn't just an app dominated by members in their teens. In countries such as China, the UAE, Malaysia, Saudi Arabia, and Indonesia, members among the 25- to the 34-year-old bracket are more in number than the 16- to 24-year-olds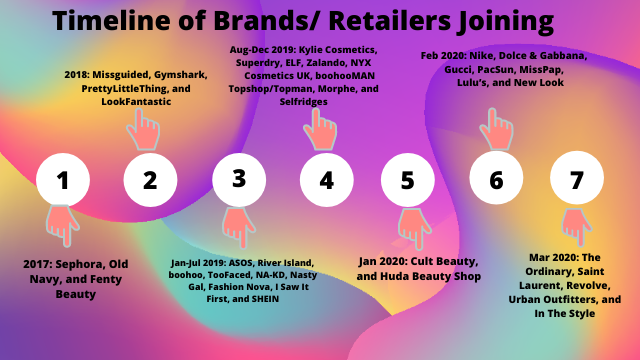 Timeline of Brands/ Retailers Joining
2017: Sephora, Old Navy, and Fenty Beauty
2018: Missguided, Gymshark, PrettyLittleThing, and LookFantastic
Jan-Jul 2019: ASOS, River Island, boohoo, TooFaced, NA-KD, Nasty Gal, Fashion Nova, I Saw It First, and SHEIN
Aug-Dec 2019: Kylie Cosmetics, Superdry, ELF, Zalando, NYX Cosmetics UK, boohooMAN Topshop/Topman, Morphe, and Selfridges
Jan 2020: Cult Beauty, and Huda Beauty Shop
Feb 2020: Nike, Dolce & Gabbana, Gucci, PacSun, MissPap, Lulu's, and New Look
Mar 2020: The Ordinary, Saint Laurent, Revolve, Urban Outfitters, and In The Style
What Makes a Great TikTok Marketing Strategy?
In today's world, customers are skeptical about advertisements, and, more often than not, they are unresponsive toward ads. However, unedited videos have been preferred by viewers while showcasing brands through their everyday lives. What this does is bring reliability and trust around a brand.
Start With Hashtag Challenges
#HashtagChallenges are one of the easiest ways for brands to stimulate engagement. These challenges bring fun to a brand's profile and content and are an easy way for viewers to join. From the very beginning, TikTok has trained its users to participate in hashtag contests without advertising. Instead, advertising looks and feels organic to users because it is natively integrated into the hashtag challenges. For brands that may not be as established as others, it is useful to team up with influencers and make fair use of their extended outreach. Making use of influencer marketing in combination with Hashtag Challenges gives your campaign the boost it needs.
Delve in Behind-the-Scenes Content
As some brands may initially find it challenging to develop content that they deem worthy and fun enough to engage viewers, it is advised that these brands try BTS footage. This is a creative and personal way to connect with audiences via social media. BTS content is a great way to showcase life inside a brand, including fun and unscripted content.
For brands that have products that require assembly or need to be used in a particular way to generate the best results, marketers can try coming up with instructional videos that take viewers through a step-by-step audio-visual process. These videos are popular and are a fantastic way to connect with a brand's existing customers. Creative product packaging that contains links to such videos is an added advantage.
Encourage Viewer Participation
One of the ways to increase user participation is to create unique challenges. In addition to the daily hashtag challenges created by TikTok, the company also has a branded hashtag challenge that encourages users to make a video of themselves using the advertised hashtag. For easy access to these challenges, brands can pin their challenge at the top of their page. This way, the challenge does not go unseen. Creating challenges is not enough. Brands must create challenges that are fun and can go viral to make the best out of them.
Create New and Original Content
Brands are required to create content that is specifically designed and tailored for this platform and is strictly advised against republishing videos made for other platforms. On the other hand, TikTok videos that are up to 30 seconds long can be used on Instagram as the time frame suits Instagram. Come up with creative ways to make videos engaging, fun, snappy, and informative.
Other than the general account, TikTok also offers a Pro subscription. Brands must make sure to switch to Pro. The Pro subscription enables brands to analyze their videos' performance and get a better understanding of their follower demographics. This data helps brands in creating content that is even more attractive to their audiences.
Unlike other social media platforms, TikTok success shouldn't be mistaken for a sudden spike in sales. Keeping a focus on conversions as a metric of success is not the ideal way to go about with this platform. To be sure of success, brands must focus on being present on the 'For You' page. As this social network continues to evolve with each passing day, marketers must focus on the opportunity to reach a more comprehensive set of audiences without opting for paid advertisements. A brand's popularity on the 'For You' page translates to organic growth and is possible when brands post trending content consistently.
For brands and marketers who want to use paid ads and have the budget to do so, the platform currently offers four types of advertisement models. These four advertisement models are as follows.
Sponsored Hashtag Challenges
Branded Lenses
Home Screen Takeovers
Auto-Play Vertical Videos
Paid ads offer a cost-effective way to promote your brand, provided you publish ads and content that meet the community's tastes.
Conclusion
If it does not already seem relevant to your brand right now, TikTok will eventually become a platform where your brand needs to be present. Although it is a creative and entertaining platform, promoting your product can also spell success for brands. Using the platform can be an excellent opportunity to create brand awareness, improve brand image, and market your product to a younger audience.