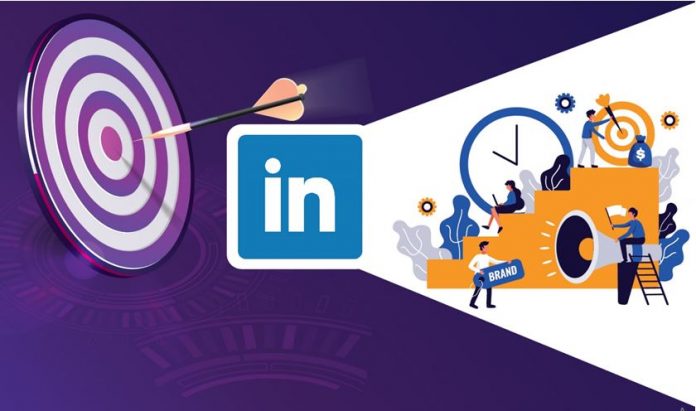 Social media platforms such as Facebook, Twitter, Instagram, and LinkedIn, among others, are already being used by brands as spaces for marketing themselves, their products, and their services. Along with marketing campaigns, these platforms are also being used to improve customer engagement and user experience by creating communities around their brand. Fellow customers get to interact with each other and the brand, which increases trust in the brand and brand loyalty.
What is LinkedIn?
Out of the tons of social media platforms available to users, LinkedIn is the only social media platform considered a professional networking app/ site, which includes employers, job seekers, and professionals. Members on this platform include professionals from all Fortune 500 companies, making it the world's largest professional network.
LinkedIn is an excellent platform for B2B marketing and marketing strategies, especially for those B2B companies seeking access to paid social media advertising and other marketing tools. There is no doubt that LinkedIn is a professional platform used by many of the world's largest companies, from Fortune 500 companies to small and medium-sized enterprises.
If you are wondering whether you should invest your resources and time in a LinkedIn strategy, these stats will show you the social network's value.
According to LinkedIn, there are more than 61 million high-level influencers on the site, and 40 million of them are decision-makers
As of May 2019, there are more than 675 million users on LinkedIn, and 38% say that LinkedIn has helped their company generate revenue
50% of LinkedIn members report that they are more likely to engage with LinkedIn than other social media platforms
LinkedIn is also renowned for being the leading social network for lead generation
B2B marketers see LinkedIn as an excellent tool for their marketing efforts, with studies showing that 80.33% of all B2B leads are generated through LinkedIn
Out of all B2B leads from social media, LinkedIn produces 80.33% (i.e., four out of every five leads). This makes LinkedIn the best platform for B2B buyers to find valuable content and influence their buying decisions. LinkedIn is also one of the most popular places to find out about valuable content
According to a study by HubSpot, LinkedIn generated a three times higher visitor-to-lead conversion rate than Facebook and Twitter
With more than 675 million members, LinkedIn is rapidly becoming the number one corporate website
Importance of B2B Marketing via LinkedIn
When you use your LinkedIn profiles to publish useful and ground-breaking content, you give potential customers the material to fully understand how their organization benefits from your product. To reach qualified B2B decision-makers, LinkedIn serves as an effective and targeted social platform that needs to be used. We know that marketers rank LinkedIn as the # 1 platform for b2b lead generation, and everyone you ever wanted to address is on LinkedIn. This is one reason why Fortune 500 companies are interested in LinkedIn marketing, and that's why it's so popular. LinkedIn is considered the best platform for blogs, videos, and infographic posts.
With LinkedIn, B2B marketers can find their next business partner, introduce their company to potential customers, attract start-up talent to their companies, and attract employees. If you can't convince yourself to use your marketing efforts on LinkedIn, we've compiled a list of 5 other reasons to use LinkedIn for B2B marketing. All this data is collected in the same place, so you don't even have to search.
B2B LinkedIn Marketing Strategies
For B2B marketers and companies that use LinkedIn to reach their customers, few key strategies should not be ignored. These strategies are as follows.
A brand's LinkedIn page is the first thing a prospect looks at and forms the brand's first impression. This is where visitors are directed to search for a brand that they want to learn more about. Brands need to dedicate time towards creating a brand page that will engage audiences and onlookers.
While optimizing a LinkedIn page, brands are recommended to follow these steps.
Come up with an overview that clearly describes your business.
Good overviews generally contain relevant keywords.
Update the profile image and remember to add a company logo
Add a CTA button, which directs visitors to the brand's website.
Make use of on-brand visuals such as videos, images, and infographics, among others.
Be sure to add job postings to improve recruitments.
Since it is a professional network, businesses believe that they need to maintain a professional front on their LinkedIn pages. However, it is worth noting that LinkedIn primarily is a social network, and brands can use this opportunity to humanize their connection.
Utilize LinkedIn Website Demographics
LinkedIn provides brands with useful marketing tools to gather information about your website's visitors. To improve upon LinkedIn B2B strategies, brands first need to know the type of visitors they get. LinkedIn website demographics make use of member data and provide extra insight to brands. This is a free tool that gathers information about visitor behavior for use in LinkedIn ad campaigns. Demographic data can be filtered by the following.
Job Function
Company
Job Title
Job Seniority
Company Industry
Company Size
Location
Country
This filtering of demographic data helps brands tailor social media and website content according to their audiences' needs. Brands can also build detailed client personas and validate advertising platform quality stupid to the right clients.
Create and Share High-Quality Audio-Visual Content
People are attracted to visually appealing content, which is why images, videos, and infographics receive more likes and shares on social media. To dish out a few facts, social posts with images garner a 98% higher comment rate when they include images, and video is preferred over text by 59% of senior executives.
Incorporating visual content makes it easier for audiences to understand and retain information. Brands can incorporate videos into the B2B marketing strategies to
Tell their story
Address FAQs
Share customer testimonials
Showcase their products and services
Interview industry leaders
The goal of sharing such content on LinkedIn is to build trust and interest. Instead of 'salesy' content, focus on providing helpful tips, best practices, and insider knowledge, establishing your brand as an influencer or industry leader.
Actively Participate in Groups
There are tons of groups on LinkedIn, each ranked according to their activity level. Find groups that are active and relevant to your industry niche and join them. Being active in such groups enables you to increase brand awareness and build on important relationships.
It is also essential to steer clear of overcrowded groups as your activity may be lost amid hundreds of other posts. Along with this, create your group to set up and maintain a community that boosts conversions.
Keep an Eye on Analytics
Towards the top of your company's LinkedIn page is an analytics tab. Analytics help in monitoring social metrics to follow a continuous quality improvement LinkedIn strategy. This helps in optimizing results and provides several types of key metrics that must be measured. Some of these metrics are as follows.
Engagement analytics shows how the audience engages with your content. It includes data on clicks, likes, comments, and shares.
Visitor Analytics allows businesses to track the number of people visiting their page and the number of views on the page.
Follower Demographics provides insight into the audience's demographics and can be used to curate content specific to that audience.
Analytics allows brands to see how the content performs and provides valuable insight into which type of content is most popular and what can be done to improve a LinkedIn B2B strategy.
Conclusion
When it comes to using LinkedIn as a tool for B2B marketing, you must get it right. Before you even start thinking about sponsoring content campaigns, you need to ask yourself why LinkedIn is so important to you and your business, and what you are doing. Using LinkedIn for B2B marketing has become one of the most important aspects of any business strategy.
Building on business connectivity, LinkedIn works wonders on B2B lead generation, making it the most powerful marketing tool available for any business. Since LinkedIn provides its users with a wide range of marketing tools, you must take full advantage of them.