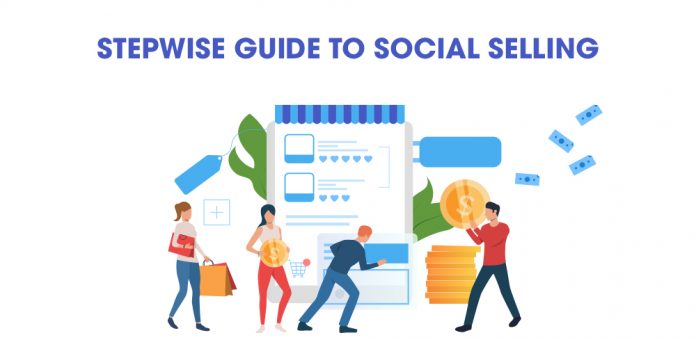 Are you frustrated with the traditional sales model of cold calling, sales demos, and lead qualification? Maybe you think it's high time this process of lead generation and sales transformed, maybe you think it needs to be changed altogether. After all, this method has been in use since time immemorial, and shouldn't we as humans of the 21st-century look for ways to revolutionize the sales process anyway? Well, look no further. Social selling is the change, the transformation, and the revolution that sales representatives have been desperately searching for since a long time now.
Social selling is the modernized, digital process by which sales representatives utilize social media to find, target, engage with, and nurture leads. While this marketing method does not involve the direct selling of products, it achieves target engagement through the sharing of relevant, quality content, answering questions, and responding to comments and mentions until the prospect is ready to make a purchase. Social selling requires brands and their sales representatives to individually cater to the needs of each prospect throughout the buying process, from awareness to consideration.
Steps to Implement Social Selling
Perfect Your Profile
The first thing people look at online is your profile. Start off with a profile picture to ensure a good first impression, whilst making use of a professional image that instills characteristics such as trustworthiness and friendliness. These characteristic traits play on the subconscious minds of the viewers of a profile and can result in the viewer being interested in a profile and going through it or leaving it.
Next up, try coming up with a profile bio/ summary that is inviting and interesting enough to influence prospects right away. Summaries include the story of an individual, what they do, and why they do it.
A social media profile such as a LinkedIn profile is more than a CV, so get creative and try engaging your prospects from the get-go. This space can also be used to demonstrate your passion for your job, which acts as a hook for viewers.
Good profile bios generally are descriptive, thus enabling viewers to know exactly what a person does and what products/ services they provide.
LinkedIn also provides users with a section where they can list their skills and areas of specialization. Adding skills and specializations to these lists provide viewers with an enhanced understanding of the person whose profile they are viewing and their offerings. Getting co-workers to endorse these skills and specializations is one method of ensuring your viewers of profile authenticity.
Build Profile Credibility
Since social selling is a one-to-one interaction between the sales representative of a company and a prospect, these professionals ensure that they have a solid profile reputation. In social selling, the company reputation does little to entice prospects as it is more dependent on the sales professional and their social profiles.
Individuals can improve upon their online reputation with each tweet, comment, or post that they make online. Every action taken online contributes in its own way to increase the overall visibility, following, and reputation of an individual. When you share content that is relevant and substantial, people are bound to re-share them tag you, or even start a conversation.
Visibility across social media platforms increases the authenticity and trustworthiness of a profile. Solving problems people face on social media is a great way to show off your understanding of your industry and prospects and also has a feel-good factor about it. Nothing increases and instills trust in your prospects than professionals casually helping them in their challenges.
LinkedIn groups are a great place to connect with prospects for any B2B organization. To make the most of this opportunity, sales reps find relevant groups, join them, and take part in valuable conversations. Individuals can share solutions to problems that people face through their expertise in the area or simply engage with members and build on the relationship. These relationships are crucial while nurturing these prospects as leads.
Finding these groups may sometimes pose to be a tough task for some individuals. To ease the burden of finding the right groups, individuals need only type in keywords in the search box on LinkedIn. For instance, if an individual work in the field of growing startups, or helping startups in a particular niche, the keyword to be entered in this case would be 'startup'. LinkedIn will display a list of groups that are related to this keyword and you can join them according to your understanding of what the group is about.
Determine Prospect Channels
Now, how do you find prospects? Social media platforms are a great place to learn about potential clients. To leverage such platforms, professionals pay attention to where their prospects are most active, and where they generally seek solutions for their problems.
Determining where their prospects spend most of their time provides sales professionals with the necessary insight into the kind of problems their prospects have and can accordingly come up with ways to get around them. These channels can range from LinkedIn groups to Twitter chats, or Facebook groups, among others.
These channels allow sales reps to listen in on their audience's issues and enable them to communicate with them to solve their problems. Another alternative to tap into conversations related to your industry would be by following industry-specific hashtags.
It is important for sales representatives to constantly be in touch with that social media connects, which requires them to continuously provide valuable contributions. Experienced professionals ensure that they treat their social media accounts with as much importance as their other work. If they aim to get the most out of social selling, it is important that these professionals do not disappear for long periods of time.
Social media requires a considerable amount of time and effort for accounts to build upon their reputation online and in the industry. Social selling is all about how dedicated professionals provide valuable contributions to their prospects. Good practices of social selling include sharing industry expertise, helping prospects, focusing on potential customers, and following relevant industry influencers, among others.
It is vital for sales reps to understand how to nurture their prospects. These professionals pay close attention to what their prospects are saying and sharing, respond to people that are trying to reach out to them on a timely basis, and 'like' posts and comment frequently but sensibly.
When beginning a conversation (or continuing an ongoing conversation) with a prospect, experienced professionals remember to keep the conversation casual. It doesn't have to be too stressful for the prospect or you. To put this in simpler terms, it is 'social' selling and therefore professionals look to maintain that social factor while nurturing their leads.
Handle Complaints in a Timely Manner
While the major part of social selling is to forward your sales agenda, be sure to handle complaints, as this method is the way of promoting your business indirectly and directly through social media behavior. This helps retain customers, which is a major plus point because retaining customers is ten times more cost-effective than gaining a new customer.
A significant factor that decides the interest of a prospect in a brand is the time taken by the brand to resolve complaints. Negative reviews often spread faster than positive reviews and a recurring negative review about any brand is the complaint handling time. While prospects and customers look for their complaints to be handled within five hours, the average time taken by companies is around ten hours. Now that you know this, you can implement this to satisfy and retain more customers.
The last step of social selling is to go past the social media connect by converting from digital to real-life connections. Once you think you have established a good connection with a prospect, it is much easier to carry on with the rest of the process via a phone call or an email that facilitates a physical meeting.
Taking proceedings offline increases trust on a more personal level as compared to the existing trust over the digital social media platforms that the conversation initially began on. If a physical meeting is not possible, a telephonic conversation or an introductory email work well.
Conclusion
Social selling isn't the same as social media marketing or social media advertising. It is the pinpoint finding, connecting with, understanding, and nurturing of prospects. Sales reps consider social selling as a modern, digitalized method of developing meaningful relationships with prospects, which makes their brand pop up in the minds of their prospects before any other when they are ready to make a purchase.
Social selling is a great way to gain relevant leads from a wide base of targeted social media prospects. Other than a method that improves company sales, it is a method of increasing the trust of prospects in a brand and its products, which eases the buying process. It's high time sales representatives got over the traditional cold-calling method and get themselves involved in a much more rewarding sales approach via social selling.