To begin with, a data management platform (DMP) is a technological platform that collects and manages data from multiple sources. Brands leverage DMPs in their digital marketing campaigns by creating audience segments for targeting with precision. Other than this, DMPs enable marketers to send personalized messages to individuals by analyzing each profile, which results in increased sales and better customer experiences through enhanced, personalized marketing.
To choose a DMP, brands need to take into consideration the goals that they want to achieve with the help of a data management platform. This is an essential step because not all DMPs provide the same features, which may result in the alteration or, in some cases, complete abandonment of the set goals. While one particular DMP may provide great results to an organization, another organization may not fare as well with the same data management platform. The goals set by a brand need to be fulfilled via the DMP they choose.
The next question any brand must ask themselves is whether they really need a DMP? In cases where the target audience is small, typically found in SMEs, data management platforms are an additional expense and may not provide the expected ROI. In other cases, there are so many types of tools that offer solutions for digital marketing. Brands must be able to differentiate a DMP from other tools and decide whether a DMP indeed solves their problem or another tool fits the role better.
Vendor/ Provider Stage Considerations
Once the abovementioned criteria are decided upon, the next step is to reach vendors and do a little groundwork before initiating the purchase. Understanding the importance of choosing a vendor who can provide valuable information and advice, and offer a solution that is customized to their needs is vital.
To begin with, get in touch with potential providers and let them know about the business and its goals, in terms of marketing. The provider must be able to recognize the requirements and put in suggestions that best fit the mentioned criteria. A dedicated provider will also be able to let brands know how the DMP will help them in their business and achieve the mentioned goals.
Next up, get into the details of the DMP and learn about each of its functionalities. Study these functionalities to know more about the efficiency of the tool and the degree of improvement that it can offer to your business. Brands can take a product demo, which gives an understanding of the full potential of a tool and they also get to see the tool put to practice. The last step of this stage is to ask vendors whether they would be providing ongoing support post-purchase.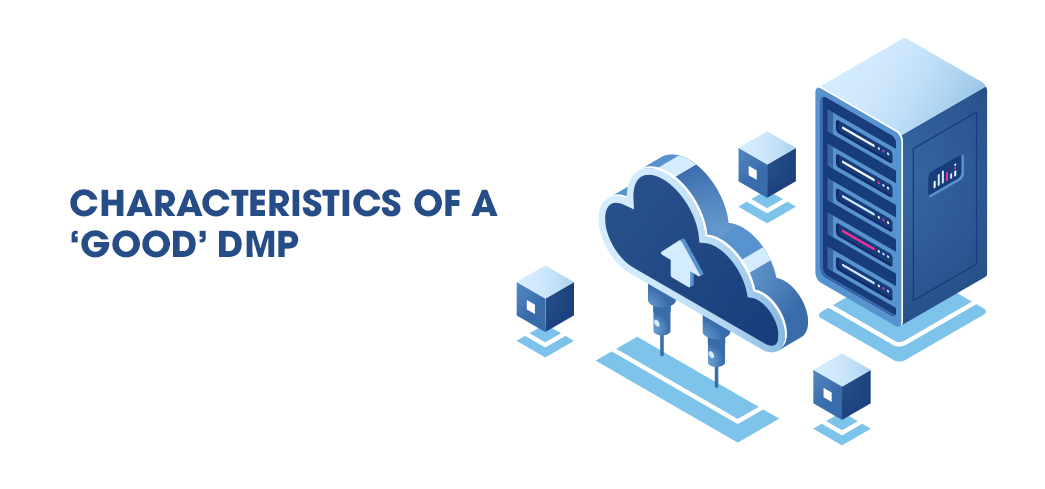 Characteristics of a 'Good' DMP
Now that the preferred vendors are more or less shortlisted, marketers must be able to pinpoint a few of the functionalities that are absolutely necessary for their business. This criterion must be sorted before differentiating between DMPs based on their pricing. After all. purchasing a product that is expensive but does not comprise the necessary features is pointless and qualifies as a loss for the company.
To get around this, marketers must take into close consideration the following characteristics that ensure a 'good' DMP.
The audience data that is collected firsthand by a company is known as first-party data. First-party data comes directly from the customers, site visitors, or social media followers, among other sources. Since the primary function of data management platforms is to collect, store, and unify data, first-party data is generally enabled in almost every DMP.
Some DMPs charge a particular fee for the amount of fir-party data impressions. For brands that attract significantly high web traffic, the fee is a stumbling block. In such cases, unlimited first-party data impression is required. It would do good to such companies to look for DMPs that first-party data activation free of cost.
The data collected by a company that does not have a direct relationship with the user, whose data is being collected is known as third-party data. Third-party data is often collected from various websites and platforms and, later, aggregated via a solution such as a data management platform.
Third-party data is useful while targeting individuals for future marketing campaigns. It is a cost-effective method of gaining data of potential audiences to market products or services to. This type of data is generally provided by the vendor for an additional cost and is extremely useful in expanding the target audience as it is already segmented. Some competitive vendors are ready to give discounts for third-party data packages.
Think of top customers, their behavior, their spending habits, their requirements, and other factors. Wouldn't it be great if brands could target similar potential customers? An imperative functionality of a DMP is to provide users that are similar to the brand's existing customers.
A look-alike is a profile of a brand's best client's digital twin. With the availability of digital twins, brands can acquire great customers and at a fraction of the brand's customer acquisition costs. To put this into a business perspective, customer retention is much more feasible for brands as compared to the acquisition of new customers. While this characteristic is provided as a paid service, there are some tools that do provide it without any charge.
Numerous businesses today run on mobile data. The sole reason for this is the amount of time their customers spend on mobile phones. Almost every business today targets its audience via multiple devices and prioritize marketing to mobile phones.
Data management platforms can vary significantly in their offerings. Business owners are advised to research prospective DMPs thoroughly to get a better understanding of product features and vendor offerings and necessitates such brands to confirm whether a DMP allows the storing and analyzing of mobile data.
Demand-Side Platform Integration
A demand-side platform (DSP) allows brands involved in digital advertising purchasing and selling to manage numerous ad-exchange and data exchange accounts via a single interface. DSPs enable advertisers to bid for ad display space (ad inventory) across multiple exchanges.
Almost all businesses look to store and segment user data to facilitate the personalization of marketing and communication with their customers and prospects. The export of data from a DMP to an existing DSP is vital for this marketing process and business owners are advised to look for data management platforms that allow easy exchange of data between the two systems. Another factor to check for is if the export is possible, what are the export processing times? Export processing times play a major role as they directly influence the programmatic ad purchasing process.
By now it is clear that DMPs, in addition to storing and managing data, also analyze user data. Data analysis is a significant step toward understanding the success and shortcomings of a brand's marketing efforts.
Analytics allow brands to locate problem areas and implement improvements in their process. While the provision of analytics along with a data management platform is the general norm, some providers charge an analysis fee, which can pose as a hurdle for brands on budgetary constraints. Of course, there are providers that include this characteristic free of charge. Brands have the option to choose vendors that provide analysis free-of-charge in such cases.
Reports generated by DMPs are often packed with detail and are also time-consuming. Every data management platform has its own metrics that it tracks. While the common metrics are generally included in the reports of almost every DMP, some additions or removals are evident.
Each metric provides insight into a certain portion of the company's performance and with certain metrics being left out by some DMPs, these companies may not get the answers to their questions. Without certain metrics that are vital to a particular company, the report feels incomplete and does not fulfill the actual purpose of having a report when they cannot do anything to improve an aspect of their process. Marketers must pay close attention to the reports and which metrics they include and which they lack.
Conclusion
Purchasing a data management platform is a vital step. It could make or break a brand's budget if not chosen wisely. Buying a DMP that does not suffice the needs of a brand is detrimental to the brand and leads to failed marketing campaigns and loss of revenue. To undo this, brands need to research and purchase another data management platform and start all over again, which is a waste of time and money. Marketers need to get this right the first time around and deliberate on each of the above-mentioned factors before completing a DMP purchase.