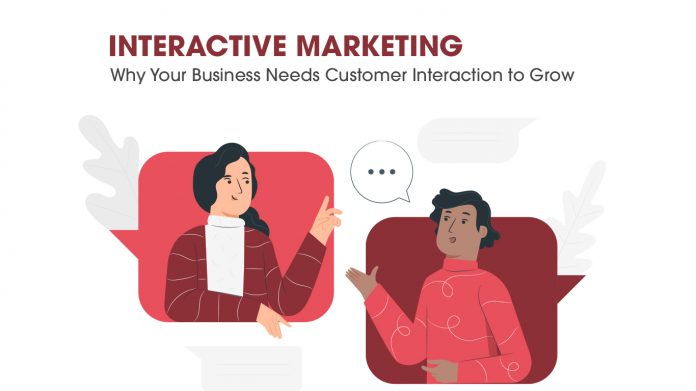 Interactive Marketing (IM) is a marketing approach that requires the direct participation of the end-user in the campaign. It is a 1:1 marketing practice that focuses on the actions of individual customers and prospects. Interactive marketing involves marketing initiatives triggered by customer preferences and behavior. IM provides marketers with an enormous number of possibilities via internet resources including games, quizzes, contests, and social networks, among other such services.
If you aren't familiar with interactive marketing, it also goes by terms such as trigger-based or event-based marketing. Whatever term you refer to it by, IM refers to the ability to provide customers with actions and then build marketing strategies based on those actions. In simpler words, any action that a customer takes triggers a certain marketing reaction by the brand. An example of IM that we see often is when we're ordering a burger, to which the counter attendant asks, "Do you want fries with that?"
Importance of Interactive Marketing (IM)
Despite interactive marketing being a form of direct marketing, its widespread utilization makes it an independent form of marketing communication. Interactive marketing plays an important role in the spreading of convincing brand image information in the online space. The internet and online search tools render information search easy and allow the spread of information in the blink of an eye; some would even go as far to use the word 'viral.'
Interactive marketing is of extreme importance to marketers in this technological, internet-savvy age, and makes the central nervous system of many marketing campaigns.
Interactive marketing is a customer-centric strategy that has spurred a major transformation from traditional campaign-based marketing and requires marketers to react to customer actions and strive to meet expectations and demands. For IM to be successfully implemented, marketers must have access to advanced technology and software that provides 360-degree customer profiles. These customer profiles are data-rich and comprise even minimalistic details of customers. 360-degree customer profiles are possible with the help of Customer Data Platforms (CDPs).
CDPs are software that collects data from multiple data sources of a company such as CRM and other social media platforms. Once collected, the data is processed and results in 360-degree customer profiles, which are stored in a central location and are accessible to marketers as well as every other department of the company.
Interactive Marketing Types and Their Examples
Interactive marketing solves certain important problems that marketers face in this digital era, i.e. short online attention spans, brand uniqueness, and customer contact information. To work a way around these problem areas, marketers came up with interactive content that looks to gain customer attention, creates a unique online presence, and facilitates a more trustable platform for customers to share their contact details. Here are a few types in which interactive marketing is practiced by marketers.
These come to people like challenges, entertainment, and, most of all, engage them. These quizzes provide results based on the replies that are input by the user and usually are short, easy, and fun.
The users are required to answer a few questions related to their preferences and are given product recommendations based on their responses; an online doppelgänger of a store assistant.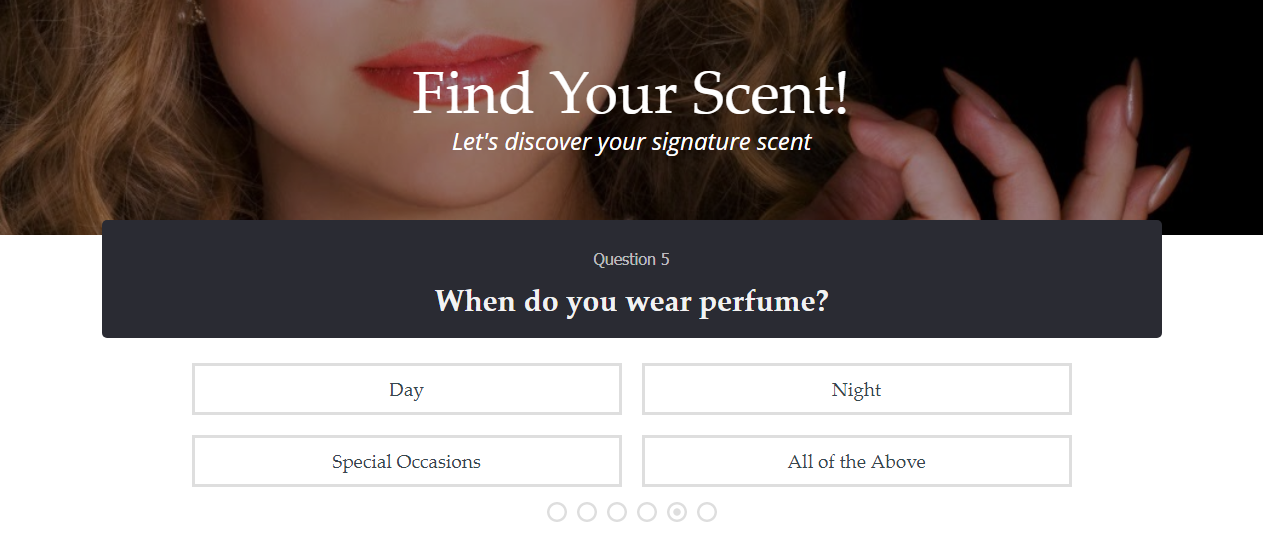 Image as seen on Signature Scents
Example: Signature Scents by Hand came up with an online product recommending a tool that helps users discover the perfume of their choice. This is a unique offering, engages customers, and boosts sales.
Users are given choices that they must choose as the story progresses, which ultimately determines the conclusion to the story.
Users are interested in such IM campaigns as they are optimistic about participating and standing a chance to win something for relatively little effort.

     Image as seen on Amazon India
Example: Amazon India has multiple contests offered on its mobile app. This requires users to create an account and sign in before they can participate.
Let's face it, regardless of age, people like games, and adding these into marketing adds fun and engages users.
Online polls are questionnaires that allow users to know what others think about the same topic once they submit their answers.
Surveys are a great way of knowing customer opinions about your products. Online surveys provide marketers with valuable feedback in a fun and visual way.
You've probably seen online calculators on some websites that allow users to know the exact or approximate price of the product or service they're interested in.
Ever run out of the drive to read through plain stats and reports? Well, interactive infographics solve this problem by presenting such data in an alternative manner that is attractive and provides users with options to explore this data in detail.
Example: Mailchimp's 2019 Annual Report is the perfect example of boring stats made interesting with a creative one-at-a-time approach.
Contrary to traditional videos, interactive videos enable users to be a part of creating the story with questions, allow users to know more about products such as price, description, etc. on mouseover.
As per the Cisco Visual Networking Index: Forecast and Methodology, 2016–202, 82% of all customer internet traffic are estimated to be through video in 2021.
Interactive Marketing Benefits and Challenges

Interactive marketing is relatively much more cost-effective than many other marketing strategies, therefore being a viable solution for both large- and small-sized brands. Interactive marketing provides brands with increased flexibility, allowing marketers to make changes in their activities whenever needed. The key benefits of interactive marketing are as follows.
User Identification
Consumer Engagement
Viral Marketing
Reduced Advertising Information Distribution Costs
Selective Impact
Along with multiple benefits, however, come some challenges that marketers face while utilizing interactive marketing. It requires a comprehensive study and constant monitoring since it can impact brand image negatively as well. Certain drawbacks that marketers commonly make a note about are mentioned below.
Limited Internet Reach
Hacker Threats to Sensitive Customer Info
Human Rights Violations Risks
Instead of seeing these drawbacks as red lights, marketers must think of these as simple shortcomings of growth and look for ways to solve these problems. Most of these challenges will be done away with in the near future by legislative acts and advanced security software.
Is Interactive Marketing for You?
Now, coming to the question about whether interactive marketing is for you; it's for everyone! The pocket-friendly nature has already done away with the disparity in terms of a company's marketing budget worries. Let me list out a few things brands acquire through IM, just to help you out a bit more.
The attention span of the average human falls to a mere eight seconds, a whole second behind that of a goldfish. This is a huge wake-up call for all the marketers reading to provide a more engaging experience.
Marketers and content teams spend hours coming up with quality content after intensive research and testing. Before hitting the delete button, simply try making the same content interactive.
A successful IM campaign is one where your audience converts from readers to buyers, also known as 'sales conversions.'
This is what marketers are basically brought in for. However, when the average retailer sends an average promo, the average customer will neglect it, and forget they even saw it. Stop being the average retailer! Marketers must provide experiences worth remembering, for brands to gain positive association and recognition.
Interactive Marketing Best Practices
Now that you know the benefits, challenges of interactive marketing, and also know that it most definitely is for you and the current way to go, how about I shed some light on IM best practices? The following are elements that the best IM campaigns include.
Interactive marketing examples that include elements of fun and gamification draw people in and keep them engaged with smart interactions.
As a marketer, you already know this. This is the basic requirement for any marketing strategy, really. If you want conversions, your interactive content has to be super relevant to your target audience.
Website layout and design portray brand professionalism and impart credibility and trust to your business.
Marketers must look to create content that becomes viral, either organically or by rewarding participants for sharing the interactive content. You don't want to be burning through your budget by relying on paid channels to promote content.
Utilize your own website to host your interactive content and social media to amplify its reach. Make sure you do not advertise your content on someone else's platform; it's risky and not so cost-effective.
Marketers need to understand the importance of following up with customers that have engaged with their interactive content. Surely, you wouldn't want to do it all over by putting in more money and time. Ensure customers are reached through whichever channel they have engaged with your content.
Interactive marketing is not going to solely run on the unforgettable experience that brought you your users in the initial part of the marketing campaign. Customer service representatives play a pivotal role in interacting with customers for the relationship to evolve from just a few quizzes and videos to more human touch.
How to Set Up IM for Businesses
Up to speed with IM best practices? Well, let's take a look at how to set up interactive marketing for your business now. If you're a marketer or a business owner, or even an aspiring businessman and want to implement IM in your business' marketing strategy, you need to spend time studying your market, understanding its wants, needs, and actions that can lead to results. To ease this a little, here are a few ways for you to go about setting up an interactive marketing strategy for your business.
Identify, through surveys and data analysis, triggers that may lead to interactive marketing events.
Predetermine the marketing event for the trigger. For instance, the earlier example of the counter attendant asking the customer whether they wanted fries with their order. Here, the order for burgers is the trigger, and the corresponding marketing event is the question about fries popped by the counter attendant.
Next, you need to set up your system. It will require technical knowledge to write and run a program that takes data input and displays a certain output.
Now that the system is up and running, it's time to test and assess it. Check whether it's working correctly, leading to more sales, or drawing complaints from users. Use this data to make changes and improve the system.
Takeaway
Interactive marketing is an important facet of the many marketing strategies that a brand may utilize to get itself out there. It is a marketing essential and must be given its fair share of importance and also a fair share from a company's marketing budget. Interactive marketing is a level playing field for companies of all sizes and, as a strategy, should be leveraged to its fullest as it provides marketers with multiple benefits and barely any challenges, if any at all.