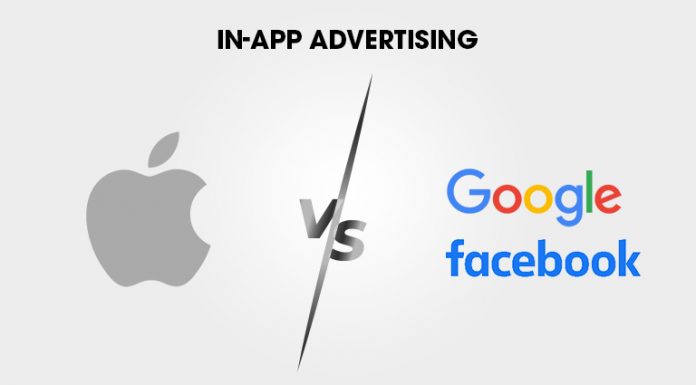 Logo by Apple, Facebook, and Google as seen on Apple, Facebook Google. 
Facebook, yesterday, has made public its concern regarding a new software update from Apple, the iOS 14, which was announced in late June this year. In a statement, Facebook has said that, as an Ad Network, it could lose a large portion of its in-app advertisement revenue due to the new changes in Apple's operating system. But how could a change in Apple's operating system really affect Facebook's revenue from ads in apps? Here's how:
To understand this better, let's go about this from an advertiser's perspective. Being an advertiser, you would want to take an advertising campaign live, acquire new users for your app, want users to install the app, find out which ads worked, and why. Now imagine doing this across more than just a couple of apps. Repetitive and time-consuming's what comes to anyone's mind, and that's exactly how it is. To get over this inefficient mode of working, advertisers tend to opt for Ad Networks that have their systems and connections in place to air your adverts across multiple apps without the extra hassle.
Now, Facebook is an Ad Network that almost everyone uses (or, at least, wants to use) for this process. Facebook, as an organization, is powerful enough to leverage the information they receive from the thousands of apps liaisoning with it to generate insights that are truly spectacular. To put this in simpler terms, if Facebook has five apps that utilize it as an Ad Network, and more than one of these apps are installed by a user on his/ her smartphone, Facebook has the power to track the user's activity across each of these apps and provide highly-detailed insights.
Facebook can provide such detailed and pin-point information about users to advertisers because it tracks each activity of theirs, both online and offline, to create a 360-degree view of every individual user. This is made possible by an identifier that is unique to each user. This unique ID is referred to as GAID or IDFA. GAID is the terminology used for Android devices and stands for 'Google Advertising ID,' whereas IDFA is used for iOS devices and stands for 'Identifier For Advertising.'
Android and Apple have been happy to share this identifier with advertisers all this while, however, with the iOS 14 update from Apple, this does not seem to be the case. While this is a way to make the organization more data and user privacy-focused, it is also seen by many as a means to another end. Let's focus on the data and user privacy part of this whole change in operation for now. Any time an app wants to track a user by the IDFA on the iOS 14, they'll have to display a message that asks the user if they want to consent to the tracking. The message would look somewhat similar to what's shown below.

Now, Facebook's been in business long enough to know that most users would not consent to be tracked by third-party applications for the purpose of being shown personalized advertisements. This would pose a tough challenge for Facebook as they wouldn't be able to let advertisers know why their app was installed anymore. This would create a situation wherein the ad network wouldn't be able to provide many details of users, which would lead to advertisers cutting down on ad expenditure.
The other, and probably the more interesting part of this change in Apple's operating system, is largely driven by Apple's own SKAdnetwork, which was launched in 2018. Despite functioning in a way to help advertisers measure app install campaign conversion rates without having to compromise user identity, the SKAdnetwork didn't quite live up to Apple's expectations, which, as you may expect, led to the loss of billions in yearly ad spend.
Insight into this move by Apple: It's the billions of dollars that Apple can cash in on. (No surprise there!) According to App Annie, while the number of app downloads by the store was led by Google Play, worldwide consumer spends by store notes the reverse. In fact, consumer spending on iOS was almost two times that of Google Play. While Android raked in $8.3 billion in the first quarter of 2020, iOS hit $15 billion. This makes iOS users twice as valuable to advertisers as their Android counterparts.
While Facebook and Google held the largest stake in ad spend until now, Apple has brought in an update in their operating system, termed it as a data and user privacy update, and turned the tables on both. Let's observe over the next few weeks how things turn out.