Fashion marketing is the branch of marketing that deals with promotional events and advertising campaigns of clothing and accessories to the target audience. The products and offerings can be advertised via print media or digital marketing methods. Fashion marketers must acknowledge two important aspects of fashion marketing, namely, where to sell products for maximization of sales, and what price to sell the products to attract more customers and, ultimately, increase profits.
Along with a marketing prowess, fashion marketers must have a good sense of business and possess a natural flair for fashion and its current trends. These marketers must also know how products need to be displayed, which calls upon the creative and resourceful side of the marketer. Fashion marketers also need to plan, design, and coordinate advertisements that are set to target potential customers and entice them into buying or taking the action desired.
Some even describe fashion marketing as the process of managing merchandise flow from bottom to top, i.e., from design selection to product presentation, with the aim of maximizing the brand's sales and profits. Fashion marketing is successful when marketers understand customer desires and respond with appropriate products by aligning their marketing strategies. Fashion marketing can operate at both wholesale and retail levels.
What Does a Fashion Marketer Do?
For the efficient marketing of fashion, the role that marketers play is of utmost importance and is a major deciding factor in the brand's growth and progress. Fashion marketers perform several tasks daily and must remain up to date with ongoing market and company trends to maintain brand value and competitive edge.
Fashion marketers are involved in media planning and branding, are responsible for the display of products, take care of the creativity of advertisements, and, also, photography, among various other chores. To do justice to their profile, fashion marketers must ace the following tasks that they are responsible for.
Market Positioning
Piracy Issues
Pricing Structures
Apparel Innovation
Quality and Performance Measurement
Consumer Decisions and Shopping Behavior
Brand Loyalty
Product Image
Merchandising
Manufacturing Systems
The Importance of Socio-Economic Factors
Perceptions in the Marketplace
Role of Technology in Fashion Marketing
Fashion marketers make use of data tracking methods via focus groups and other means that help determine consumer preferences and accordingly provide designers and manufacturers with feedback so that the type and quantity of goods are as desired by the end consumer. Thus, fashion marketers are given the responsibility of identifying and defining the target audience and responding to their preferences.
Importance of Fashion Marketing
Fashion marketing brings the creations of designers from the world over to wholesale buyers and consumers and, hence, is a vital part of the fashion industry. When marketers execute top-notch marketing and branding of a product line, it results in immediate success for the designer. This shows that, along with the designs, efficient marketing also plays a crucial role.
Fashion marketers look to add emotion to their campaigns, which helps customers connect better with the brand. Fashion is more than what meets the eye; it is the story or the message behind the clothes that the customer relates with as there can be identical clothes by two different brands where the difference is the message that is sent out.
Marketing does more than just increase brand revenues; it increases brand awareness and encourages brand loyalty. The ideal goal of fashion marketers is to get their brand to the correct audience; an audience that buys products and also becomes self-appointed brand ambassadors. Once marketers successfully achieve this, these brand ambassadors will spread the message about the brand by word of mouth. Word of mouth marketing is one of the most potent marketing methods there is, as people tend to buy products recommended to them by friends or relatives as they trust and believe them. In fact, 74% of consumers identify word of mouth as a key influencer in their purchasing decision.
Fashion Marketing Techniques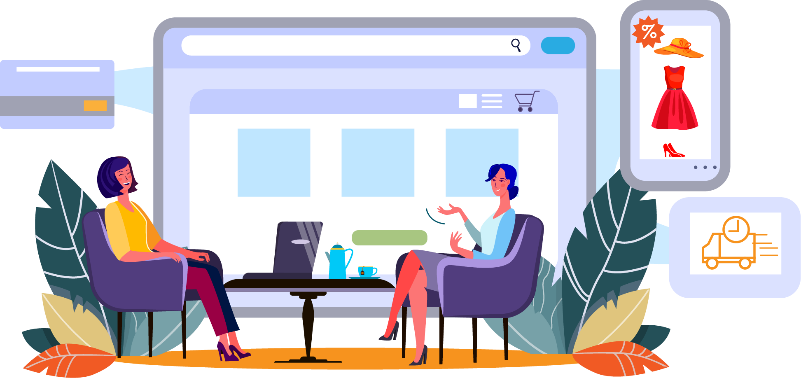 Fashion marketers make use of various techniques for the efficient marketing of their product lines to generate maximum appeal and sales. A few important techniques that fashion marketers make use of are as follows.
While print media is the OG method of advertising, digital advertising is surpassing it at an unbelievably quick pace. While this is a fact, another fact is that both methods possess different advantages. Advertisements have a greater appeal when they are digital and can further utilize video marketing for engaging videos, interactive pop-up ads, and other creative approaches that increase communication with consumers.
In any magazine, the first few pages and many more throughout the magazine are advertisements. The fashion industry is a very dominant industry in terms of print advertising. Also, unlike annoying pop-up ads on the internet, print ads are almost welcomed by those who buy fashion magazines. This is one of the very few industries where ads are considered relevant and essential content.
To make up for the generation gap and other constant changes in customer awareness, brands have resorted to advertising on a range of different platforms with different audiences, but all comprising the same goal. Marketers must look to infuse creativity, memorability, impact, and innovation into their advertisements to reach the ad's full potential.
By now, it is pretty obvious, fashion marketing is highly dependent on appeal, and to appeal to people, brands must send out messages that are relevant and easy for their target audience to connect with. 
Social Media for Fashion Marketing

In the modern tech age, brands that are successful are those that leverage social networking and other web marketing tools that significantly increase brand exposure and public awareness about the brand's offerings. Fashion marketing requires marketers to take advantage of the ability to post ads on social media platforms such as Facebook, Instagram, and Twitter. Almost all major fashion brands will have their pages set up on these social media platforms and keep their customers engaged by frequently posting photos, videos, and information about their latest offerings and discounts.
According to recent studies, fashion marketing on social media platforms encourages people to compare prices, voice their opinions online, and ultimately leads to more product purchases. In the event of a user 'liking' or 'following' a fashion-related page, the social media platform begins posting advertisement links to fashion retailers' e-commerce sites.
Branding Strategies Used in Fashion Marketing
Let's get straight to the various branding strategies that determine whether a brand is going to be a hero (or a zero).
Use Facebook ads for retargeting visitors to increase conversion rates.
Introduce a promotion during the holiday season to increase sales and garner attention as buyers are most aware at this time.
Innovate and suggest style guides to show your visitors what product goes well with another, or how to wear it properly.
Launch a giveaway on Instagram, which will increase community size and brand awareness.
Leverage influencers in your category to widen the target audience, gain social proof, and deliver unique content.
Try getting every new email subscriber to be the brand's Instagram account follower.
Come up with gift guides that address year-round festivals and happenings to increase purchases.
Get your audience to invent a community for your brand.
Remember customers' birthdays to build on brand loyalty.
Launch a blog or keep up with it if you already have it.
Nurture individuals that have not bought as yet and convert them into customers later.
Remind people via emails that they have items remaining in their cart to increase conversion rates.
7 Great Fashion Marketing Examples
Nike: Better for It
     Video by Nike
The 'Better for It' campaign by Nike in 2015 is a brilliant example, to begin with. The advertisement depicts the thoughts inside women's minds while they are performing various sporting activities. The advertisement correlates sport and self-esteem and intelligently hints at how our mind and performance is affected by what we wear. This advertisement, despite being light-hearted, struck a chord with its female customers.
H&M: Close the Loop
     Video by H&M
H&M came through with the 'Close the Loop' advertisement as an innovative fashion marketing campaign. This campaign was aimed at making fashion more sustainable and promoting this as H&M's mission. The advertisement featured plus-size model Tess Holiday, and Muslim model Mariah Idrissi. In doing so, H&M created one of the most diverse ads of all time and garnered significantly positive responses for its inclusiveness of different cultures in fashion.
Lacoste: Timeless
The brand Lacoste was founded by tennis player René Lacoste and André Gillier in the year 1933. In its marketing campaign, 'Timeless,' Lacoste makes use of a time jump feature that takes viewers on a visual journey, which subtly hints at the brand's fashion past. The video makes use of emotion and storytelling while transcending multiple decades in a single train journey. Timeless takes its viewers through nostalgia, urgency, and intrigue, all within two minutes, ironic!
TOMS: One for One
Remember the branding strategy that focused on sending out a consistent message? Here's where it's implemented. TOMS is one of the most unique brands out there today. For each pair of shoes that the company sells, it donates another pair to charity. TOMS' 'One for One' campaign gives its customers a sense of satisfaction when they realize that their purchase also gives back to society. This simplistic message of being charitable, without compromising on profits, has created an instant connection between TOMS and its customers.
Burberry: Kisses
     Video by Burberry Kisses
It might come as a surprise to many, but digital marketing doesn't need to involve product promotion all the time. Burberry's 'Kisses' campaign, in partnership with Google, was aimed at bringing focus to the brand. This campaign enabled users to send virtual kisses to loved ones via social media platforms. People around the world were intrigued by the campaign and provided Burberry with the opportunity to have a unique connection with its users.
Yeezy: Team Yeezy
The collaboration of Adidas and singer-rapper Kanye West led to the creation of Yeezy Boost, a world-famous shoe that took the fashion industry by storm. To market this shoe line, Kanye sent out special pairs of shoes to his celebrity friends, including the Kardashian-Jenner clan, and Justin Bieber, among others. These celebrities utilized their fame and outreach as marketing tactics via social media platforms. Taking into account the influence these celebrities have over the masses, the shoes began flying off the shelves in no time.
Adidas: #AllIn
     Video by Adidas
The '#AllIn' campaign by Adidas featured Lionel Messi, Mesut Özil, Luis Suarez, and Dani Alves, some of the world's most famous football players. This campaign was launched during the 2014 FIFA World Cup and was omnipresent on social media platforms, garnering 38 million YouTube views and 2.1 million Twitter mentions.
Conclusion
Despite being a large part of showbiz, the major chunk of fashion marketing is behind the scenes, with fashion marketers keeping tabs on the latest trends and buying habits, setting up campaigns, and establishing a connection between brand and consumer. Fashion weeks, top magazines, famous calendars, and renowned blogs are the hotbeds of fashion.
Fashion marketing significantly increases a brand's online presence and is an essential tool for increasing customer awareness. Marketers must ensure to align their promotional campaigns with fashion marketing best practices for brands to thrive in this dynamic, cut-throat, bling industry.